One of my favorite power tools and that was one of reasons we did power tool review on Milwaukee Sawzall. I truly love everything about this and cannot find one item to complain about.
The Milwaukee Sawzall is a power tool used to destroy. So it is even more important to build a good quality tool as more accidents happen during tear down. The body is put through more stress and is harder on the body, which causes fatigue. First impressions when picking up the Milwaukee Sawzall power tool is "Solid". It has some good weight to it which helps in this type of application, 8.9 lbs, so it is not too heavy. The rubber grips feel nice in your hands which mean your hands will stay in place and not slide around. Variable speed control is on lower part of the "D" handle which is nice.
Balanced tool to use:
Another item we noticed from the start was the balance of the tool. The balance of this tool was perfect. Some weight in the front which will help the tool cut, while the back was each to move around. The Quick-Lok feature is one of the best ideas to come along in a long time. Since this tool is used to destroy, chances are you will ruin the power cord. Instead of having to open tool up to change power cord you can just disconnect it and put power cord. I don't know how many cords I have ruined over the years. Then my tool will sit on the side line until I get time to change the cord. Not with this tool, just plug and go. We ran this tool through number of tests including, cutting 4×4, railroad ties, plaster walls and more.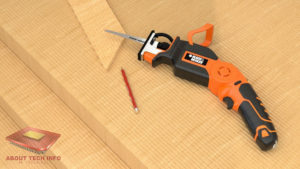 How to use it?
We tried to get the tool to bog down by trying to wedge the tool blade, we use an old blade, putting dust in the motor and more. We could not get this tool to stop or even bog down. Yes you can tell difference between sharp blade and dull blade, but that doesn't have to do with the tool. We thought we could get the tool to slow down with the railroad tie. Because it is wood cover in Creosote and has a steel s bar in the middle of the tie. We did rip through a couple blades but partly because we tried a wood blade for the metal. You are cutting metal and wood. We ended up ripping through the center with a metal blade and a small amount of orbital action. Another nice feature is you can adjust how much orbital action you want.
The collar that holds the blade is also an awesome feature. With all we put this tool through, the blade never slipped out. We even put the blade in a vice and used a pulley system to try and rip the blade out. You must have to go online to purchase it.