Do you need Laptop Hard Drive with more capacity of storage for your laptop to install? Laptops look like small notebooks or large notebooks which are only about 0.7 to 1.5 inches thick.
It has a size ranging from 10 x 8 inches to 15×11 inches and up. Most modern laptops weigh about 4 to 12 pounds. The older models were much heavier. A subnotebook is laptop designed with a long life battery. It is commonly lighter and smaller than usual laptops, weighing about 0.8 kilograms to 2 kilograms. Its battery life can exceed approximately 10 hours. The notebook is another classification of an energy-efficient laptop, economical, lightweight and optimized for wireless Internet access. It is mainly design for e-mailing and web browsing. Notebooks have wide variety of light-weight operating system such as Windows XP and Linux. Most laptop hard disk is normally smaller, about 2.5 inches or 1.8 inches.
Efficient hard drives:
The more recent models are more expensive but are lighter, power-efficient and have faster hard drives. 260 to 320 GB sizes are the current usual sizes for hard disks now. Most of these drives are easy to install because both hard disk and laptop are smaller as compared to desktop. Back up your important files. If you are changing existing hard disk and it is still functioning, back up all import files stored on drive. Turn off your laptop and unplug the cord. Find the slot that homes the hard disk, then remove all screws that connects it to the slot cover. Then, smoothly pull out the hard disk. The laptop hard disk is enclose in a sled form housing link to the slot cover. Remove the old hard drive from the laptop and attach the new drive. Restore the sled screw but do not over-tighten it.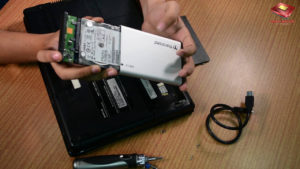 Instruction to follow:
Restart the laptop and follow the instructions in user manuals to enter the system's BIOS. If the new hard drive is properly installed, it will be recognize by BIOS. Load the operating system disk into the DVD or CD drive. Reboot the laptop and then follow the directions on the screen and then install the operating system. Once the operating system is installed, move your important files to the new laptop drive. The IBM Laptop 60GB hard drive is an internal hard disk. This drive offers sufficient capacity for portable video editing with efficient-power consumption as compared to traditional 3.5 inch hard disk. This drive also provides great storage for a variety of consumer and commercial notebooks. This 80GB internal hard drive demands a high performance and a reliable storage system. It has rotational speed of 5400rpm and the seek time is 13 ms average.
This drive features an OEM equivalent; free live technical support and high capacity. The Fujitsu 80GB Hard Drive 50PK is internal hard disk that features high reliability, high performance and read ahead cache. The FDB spindle motor of this hard drive is incorporate for quiet operation.